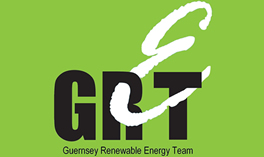 Devices and Resource
WHICH IS THE PREFERRED OPTION OF RET WITH REGARDS TO OFFSHORE WIND, WAVE AND TIDAL?
RET is looking at all three potential marine renewable sources (wave, tidal and offshore wind) equally. RET is technology neutral to each of these renewable sources and so has no preference to one technology over another and are looking into all technologies with equal effort. However there are differences between the technologies that may influence how and when they are adopted in Guernsey's waters.
At present they each require different geographical characteristics:-
Tidal currently requires areas of high flow rate which is generally caused by tidal constriction, and can be found around Guernsey in places such as the Big and Little Russel and potentially off St Martins Point or in other areas where the tidal flow is restricted near to land.


Wave requires relatively deep water open to the prevailing wind and wave direction. In Guernsey this can be found offshore to the west south, and north of Guernsey.


Offshore Wind currently requires water depths of less than 30m and to be open to the prevailing wind conditions. These areas can be found off of the northwest coast of Guernsey and to the north of Guernsey and Herm.
Currently wave and tidal technologies are not at commercial scale, with multi device R&D arrays only just beginning to be placed in the water. From a Guernsey perspective this means that, unless Guernsey decides to utilise trial or early technology, the deployment in Guernsey waters is unlikely to be before 2020.
With this in mind RET has started investigating the feasibility of a small scale deployment of near shore wind turbines. Based on current technologies a 3-10 turbine array could be placed off the northwest coast of Guernsey. This makes wind the only mature technology currently.
It is possible that the sequence of marine renewable energy in Guernsey may be in the following order:
Offshore wind


Tidal and / or wave depending on which is deemed better / more advanced in the future.
As covered in the Energy and Economy section of the FAQs all of these can be preceded by Guernsey using renewable energy imported through the cable to France.
HOW MANY UNITS OR TURBINES WOULD BE NEEDED TO PROVIDE SAY 20% OF GUERNSEY'S ELECTRICITY DEMAND?
According to Guernsey Electricity's 2010/11 annual report the peak demand for electricity was on the 2nd December 2010 with a demand of 85MW. 20% of peak demand is therefore 17MW and so this should be taken as the minimum installed capacity to generate 10-20% of Guernsey's electricity.
However, it must be remembered that renewable energy devices do not generate 100% of the time (the wind doesn't always blow, the tide doesn't always flow, the waves are not always present) so actual output will be less than the "installed capacity" but it is useful to put some figures on it for an early assumption. Actual output is dependent on device, taking into account device rating, resource availability and resource variation and is also changing as new advances are made.
Looking at the future and bearing in mind recent increases in peak demand during winter periods, at least 20MW of installed capacity would probably be a better figure to aim for.
The number of units would depend on the size of the devices, which is likely to vary between technologies, but taking the 20MW minimum installed capacity:
a) Wind devices can be rated up to 5MW, with ongoing research into devices rated up to10MW. However, the Feasibility Study into Offshore Wind Energy undertaken for RET in July 2011 suggests that for Guernsey a 3MW device would be most suited using current technology. This would require 7 devices to meet the 20MW installed capacity target.


b) Leading tidal device developers are aiming commercial devices to be in the region of 1-2MW rated power, depending on the strength of the tidal flow through the area. This would mean the number of devices for 20MW ranging from 10-20 depending on technology and resource.


c) Wave devices have a range of device outputs, depending on design, ranging from around 150KW (Ocean Power Technologies – PowerBuoy) up to around 800KW (Aquamarine Power - Oyster) or possibly even higher (Wavebob suggest they have a potential 1.5MW device) with lots of variance in between, but are likely to have the smallest output per device. As such the number of devices required to meet 20MW installed capacity would vary between 134 devices (at 150KW) and 25 (at 800KW).
WHERE ARE THE PRIMARY AREAS FOR DEVELOPMENT?
While preferred sites have not been identified to a fine level, they are considered at a large scale to be in areas of resource, as outlined below.
     - Tidal
Tidal stream resource is found in areas of tidal constriction which accelerates the currents. This can be found between rocks and islands as well as around corners of islands. This leads to potential zones for tidal being in the Big Russel and potentially off St Martins Point or in other areas where the tidal flow is restricted near to land. The Big Russel in itself is a large area and so it would be hoped that there would not be an issue that would rule out the entire channel.
     - Wave
Wave resource is found in areas of the prevailing wind direction, which is linked to winds and so is thought to be from the west. Within the 3nm territorial limit of Guernsey waters to the west and south of the island are open to the Celtic Sea and the greater Atlantic Ocean beyond. With waters of depth greater than 50m found within 3nm to the west and south of Guernsey it is likely that there would be an available location.
     - Wind
Wind resource is found primarily in the direction facing the prevailing wind conditions, which around Guernsey are from the west. Water depths of 30m or less are also required for current technology of offshore wind. This means that in order to reduce turbulent winds affecting the turbines the initial zone considered to be viable is off the Northwest coast of Guernsey.
It is possible that there are other areas that have an exploitable resource, and RET will continue to investigate further to identify where these are and what the resource potential is. RET will also continue to investigate regarding the existing uses of the sea and environmentally sensitive areas. This data will be overlaid onto electronic marine navigation charts showing the identified energy resources. In this way we will be able to identify the best sites that do not unduly interfere with existing marine uses or environmentally protected areas.


WHAT AREA OF SEA BED OR AREA ON THE SEA WOULD TEH NUMBER OF DEVICES REQUIRED TO PRODUCE SAY 10-20% OF GUERNSEY'S ELECTRICITY COVER?
Again this likely to be not only technology but device specific and also is at various stages of understanding in the different renewable industries.
The most understood is wind turbines. Wind devices are assumed to be arranged in a grid spaced at 5 times the rotor diameter in each direction. Based on the wind turbines identified in the Feasibility Study into Offshore Wind Energy 3MW turbine will have a rotor diameter of 90m so this would require a spacing of 450m between devices. This would give an overall minimum space required of around 0.81 square km or 900m by 900m.
For tidal devices this area is likely to be smaller, due to the smaller rotor diameter (<20m) and the increased density of water over air. This means that while it is anticipated that tidal devices will also require around 5 diameters downstream (around 100m) , it is thought that they may only need less, potentially around 1.5 widths(around 30m), separation sideways. So using a 20m diameter 1MW turbine as the largest scenario, would require around 0.036 square km, or 120 by 300m, in a 5 by 4 grid to get 20MW installed capacity or 0.12 square km, 400m by 300m, if they require the same spacing sideways as downstream.
Wave devices are likely to vary based on device type and rated output. The 150KW PowerBuoy can, according to OPT, be scaled up to a 10MW power station occupying approximately 0.125 square km, so for 20MW this would be in the region of 0.250 square km. Wave devices can be placed relatively closer together than tidal devices as there is less device interaction. However the relative space required for devices will vary between device types, but it would be expected that as the power per machine increase, the overall area required to meet 20MW would decrease.
HOW LARGE IS THE TIDAL RESOURCE, IS IT AS BIG AS HAS BEEN SUGGESTED BY SOME PREVIOUSLY?
There is an exploitable resource available in the Big Russel with the 2005 Black and Veatch report suggesting a raw resource in the region of 822GWhr/yr. The report then quantified that this meant an exploitable resource of 164GWhr/yr. To put that into perspective, the usage in Guernsey from the annual reporting year 2010/2011 was 393GWhr/yr.
Further studies are now underway to ensure that we have an accurate idea of the resource and how it is distributed, so these figures are subject to change and the extractable resource may alter as technology evolves.
IS THE TIDAL RESOURCE BETTER OFF ALDERNEY THAN IN THE BIG RUSSEL?
Initial studies corroborate the anecdotal evidence that there is more power in the Race of Alderney than in the Big Russel. However, the tidal resource in the Big Russel appears to be more than sufficient to provide power for the Bailiwick and some export. The tides around Guernsey may not be as strong as some other areas but this could be beneficial as it may be that these sites are easier to develop, at least initially.
Detail on Alderney's resource and other information on Alderney's renewable programme can be obtained from the Alderney Commission for Renewable Energy (ACRE).
HOW DOES ONE TURBINE/DEVICE AFFECT ANOTHER WHEN THEY ARE IN SERIES/AN ARRAY?
Turbines affect the resource in their vicinity by increasing the turbulent flow of the medium, and increased turbulent flow reduces turbine efficiency. For wind turbines it is considered appropriate that the turbines are spaced 5 rotor diameters apart in all directions. As wind is a fairly established technology this is taken to be best practice.
For tidal turbines the spacing is less certain, until multiple devices are placed together in an array it is not possible to be certain how the devices will interact in the more dense water. Currently some developers believe that the devices can be spaced closer together in all directions, others think that 5 widths downstream, but close sideways. The proximity of devices may also be technology specific, so there may be more than one spacing solution.
Wave devices, it is anticipated, will be able to be placed closer together as the potential for turbulence affecting other devices is low. However, as with tidal, more accurate information will only become available once tidal devices are scaled up to arrays.
WILL THE DEPLOYMENT OF GENERATORS REQUIRE ANY SHORE-SIDE CONSTRUCTION WORKS?
In the early phases of renewable energy development around Guernsey, it is likely that the majority of power will be brought ashore. In order to achieve this, power cables will be brought onto shore and into filtering and control facilities, prior to connection to the existing electricity grid. Planning permission will be required for any shorestation buildings.