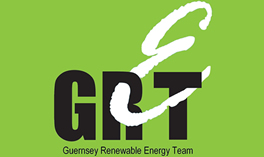 01/08/2016 - Congratulations to Bouke Wiersma on completion of his Public Engagement PhD in Guernsey
1 Aug 2016
Bouke Wiersma has completed his PhD into public opinions towards renewable energy in Guernsey. He used Guernsey as an example of island territories and Guernsey's renewable energy team has been working closely with him since the start of his PhD 3 and a half years ago.
The study was broken down into 3 data gathering studies, the results of which are available from our documents page, using a variety of traditional and novel sampling methods. The work has been and will continue to be used to inform RET's strategy going forward.
Bouke successfully defended his viva in February and has now completed the write up of his thesis. Bouke will be sending copies of the thesis to the people who have been both directly involved in the research (participants) and those who have been of significant help to the thesis more generally. The Thesis is also available to download from the University of Exeter website via the following link - https://ore.exeter.ac.uk/repository/handle/10871/21565.
RET would like to thank Bouke for the work he has done and working so closely with us to get the best research for Guernsey as well as for his PhD. Also many thanks to his PhD supervisor Professor Patrick Devine-Wright who has been very willing to provide his time and expertise as part of the PhD.
Many congratulations again to Bouke for the completion of his PhD, and for all the hard work he has put in.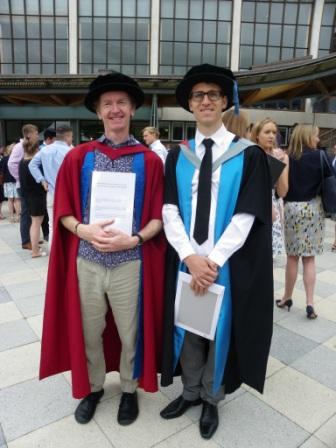 Bouke's Graduation - Professor Patrick Devine-Wright and Bouke Wiersma
21/07/2016 - Working with Universities – Update
21 Jul 2016
RET have continued to work closely with Universities over the past year, with a number of student projects either underway or recently completed with the University of Exeter, Cranfield University, Plymouth University and the Ecole Polytechnique in Paris.
RET are keen to continue and further these links and are always keen to engage with students on projects relating to Guernsey. RET are already considering projects for the next academic year so please get in contact (
enquiries@guernseyrenewableenergy.com
) if you have an interest in undertaking a project with us.
For information on previous work with Universities please visit our "
Working with Universities
" page, where you can find previously completed projects, including the latest offshore wind project undertaken with University of Exeter Student Thomas Newitt.
01/05/2016 - Renewable energy work under new Committee
1 May 2016
On May 1
st
the structure of Guernsey's Government changed. There are fewer Deputies (a reduction from 45 to 38) and six Principal Committees rather than ten Departments. For more information on the changes to the structure of government in Guernsey please see
https://gov.gg/article/153106/Constitution-of-the-States-of-Deliberation-and-Committee-Responsibilities
.
As part of the change the renewable energy workstream has moved from the Commerce and Employment department (replaced by the new Committee for Economic Development) to the new Committee for Environment and Infrastructure. Renewable energy now sits under the same committee as all energy policy and maritime affairs.
19/04/2016 - RET open Day at Beau Sejour
19 Apr 2016
Commerce and Employment's (C&E) Renewable Energy Team (RET) will be at Beau Sejour on Tuesday 19
th
April. RET will be alongside the poster display which will be located by the main entrance, in front of the bar, between 10am and 3 pm, and then later from 5pm until around 6pm.
Accompanying RET will be Professor Devine-Wright from the University of Exeter who oversaw the PhD into public opinions of marine renewable energy in Guernsey.
RET hope that people will come to the display to find out more and to discuss their thoughts and expectations, and outline how they feel RET could continue to engage in the future.
The poster display is currently at Beau Sejour near the main entrance, and will remain there until the 19th April 2016.
Links to the display and handout can be found
here.
Commerce and Employment Renewable Energy Team to undertake Open Day and associated Poster Display
16 Mar 2016
Commerce and Employment's (C&E) Renewable Energy Team (RET) are continuing their work progressing the groundwork in advance of the deployment of macro renewables energy in Guernsey. An important part of this work is to engage more closely with the public on the activities that are being undertaken and to update on the state of the industries.
As part of engaging with the public RET have (building on work undertaken with Exeter University as part of the UK'sEconomic & Social Research Council's Festival of Social Science) put together a display of posters aimed at engaging the public, answering a numberof common questions and raising awareness of the work the RET does.
The posters will be on display at the Airport (ground side) from March the 21st until April the 3rd, and then will be on display at Beau Sejour from the 4thApril until the 19th.
On Tuesday 19th April members of RET will be in attendance at Beau Sejour alongside the posters, to discuss the work of RET and answer any questions. Professor Devine-Wright of Exeter University, who oversaw the PhD into public opinion of marine renewable energy on Guernsey, will also be in attendance. 
Copies of the poster display, associated leaflet and feedback form can be found below.
Guernsey exhibition posters 1.pdf
Guernsey exhibition posters 2.pdf
Guernsey exhibition Leaflet.pdf